Decade of Lockdown pt 1 – Artist's 10 Year Ordeal Contextualises Covid-19 as Cultural Genocide
THIS WEBSITE AND BLOG IS NOW ONLINE YET AGAIN AFTER OVER A YEAR OF DOWNTIME DUE TO HACKING-This is the first of a series of blog posts exposing the draconian Covid -19 lockdown as Cultural Genocide.
Part One – A Decade of Lockdown
"The government strategy is like trying to kill a fly in your living room by burning down the whole house"1
@CoronaDoubter Twitter
My partner and I have a different view on the lockdown and social distancing currently being enforced on countless millions globally, for you may be surprised to learn that as a traditionally skilled artist of ingenuity and virtuosity, lockdown and social distancing was forcefully imposed on me from 2010 – ten years before it was imposed on you.
It forcefully censored me from showing my art using totalitarian terror tactics.
For in my efforts to make marks, to communicate with the people with art, I befell a systematic attack plan to implement 'lockdown' on me through zersetzung gangstalking, backed up with coded transmissions of threats in the media and tech creating:
"a systematic degradation of reputation, image, and prestige on the basis of true, verifiable and discrediting information together with untrue, credible, irrefutable, and thus also discrediting information; a systematic engineering of social and professional failures to undermine the self-confidence of individuals; … engendering of doubts regarding future prospects; engendering of mistrust and mutual suspicion within groups …; interrupting respectively impeding the mutual relations within a group in space or time …"2
The application of this illegal schedule to myself, in an attempt to destroy my career as an artist, and my personality and soul, and then to that of my disabled partner enabled my concurrent ability to 'read' their 'celebrity code' hidden in plain sight, a consistent agenda of genocidal and occult content audaciously waved under the noses of billions, in the media and tech, in mockery of mankind…
Our 'lockdown' began in earnest in 2010 soon after I began to show my art publicly after twenty years of blacklisting dating back to 1990, imposed by an unwritten law of censorship preventing me from exhibiting in what I found to be a monopolised, micromanaged, and deliberately dumbed-down gallery system, which is in actuality I now know is part of the shadow-banking money-laundering and social control system, guarded jealously by the globalist banking bloodlines and their lackeys.
Fed up with knockbacks from this parallel universe of anti-art and gimmicks, and spurred on by immensely positive reactions to my art from the public:
…I decided to take matters into my own hands and backed by my partner, I decided to self-represent my work to the delight of the public and to such disdain from the art market that a team of stalkers, thugs, and hackers were mobilised against me, neutralised every attempt to show my work, or have a voice, through not only thugs, but their control of media, social media and Big Tech, and who continue to stalk, cyberstalk, and threaten us to this day in a programme inflicted on us, as through that Nazi/ KGB /Stasi secret police gangstalking method of 'no-touch-torture' known as Zersetzung.
Another description:
"…the Stasi often used a method which was really diabolic. It was called Zersetzung, and it's described in another guideline. The word is difficult to translate because it means originally "biodegradation." But actually, it's a quite accurate description. The goal was to destroy secretly the self-confidence of people, for example by damaging their reputation, by organizing failures in their work, and by destroying their personal relationships. Considering this, East Germany was a very modern dictatorship. The Stasi didn't try to arrest every dissident. It preferred to paralyze them, and it could do so because it had access to so much personal information and to so many institutions."3
Hubertus Knabe, German Historian
This has been enforced by the same shadowy elitist entities and has had almost identical results locking down WE promoting avant-garde art in 2010, to the lockdown that YOU ALL are now suffering in 2020, with:
the destruction of our business and work, not through Covid but through the blacklisting and sabotage of zersetzung, with,
the destruction of our relationships not through Covid's enforced social distancing but through blacklisting, warnings and smears of zersetzung creating social distancing,
the breaking up of our congregation as groups of artists not through Covid's social distancing laws applied by riot police, but instead by the gangs of secret-police art-market thugs of zersetzung,
the removal of our power to earn not through Covid but through the censorship and blacklisting of everything we do through zersetzung,
the confinement to our homes except for essential outings, not through Covid but by stalking and the endless burglaries tampering with the contents of our homes of zersetzung every time we go out,
the removal of our free speech, not through the regulations on social media now stopping people, even Doctors, freely discussing Covid, but through censorship across every media and social media and Big Tech platform of zersetzung,
the tracking of our movements through our mobile phones, not through the track and trace apps of Covid but through the illegal stalking of us in the streets by gangs of thugs using our GPS signal to carry out the surveillance of zersetzung,
the sabotage of our medical treatment, not through the Covid pandemic response's refusal to use drugs like HCQ which are proven to save lives but through the tampering with our National Health Service treatment, and threats of zersetzung that we will be killed during operations, making my disabled partner too terrified to have an essential operation,
the death of loved ones, not through Covid but by mysterious accidents happening to people who speak out about the art market's corruption which are then used in symbolic threats of zersetzung,
the infliction of terror, not through over-hyped media scare stories exaggerating the relative danger of Covid, but through continual acts of harassment, threats, cyberstalking, cybertorture, stalking and Neuro Linguistic Programming of zersetzung
In fact, the correlation between Covid Lockdown and Communist Brainwashing has already been noted, as is revealed in the below infographic – study it well, the comparison is surely too uncanny to be coincidence, especially given the common source of both phenomenon:
…but this is the first time it has been noted that the more virulent form of brainwashing, the trauma-based mind control of zersetzung, after first being used on artists and intellectuals is now being used ON A THIRD OF THE WORLD'S POPULATION – the World Economic Forum (WEF) openly admit:
"With some 2.6 billion people around the world in some kind of lockdown, we are conducting arguably the largest psychological experiment ever"4
…and for any doubting that Zersetzung Gangstalking is illegally used by domestic Western governments on its own subjects as a parallel justice system then I would advise the reading of the leaked Gangstalking Training Manual, which was released by Dr Rauni-Leena Luukanen Kilde M.D., Chief Medical Officer for Northern Finland, RIP.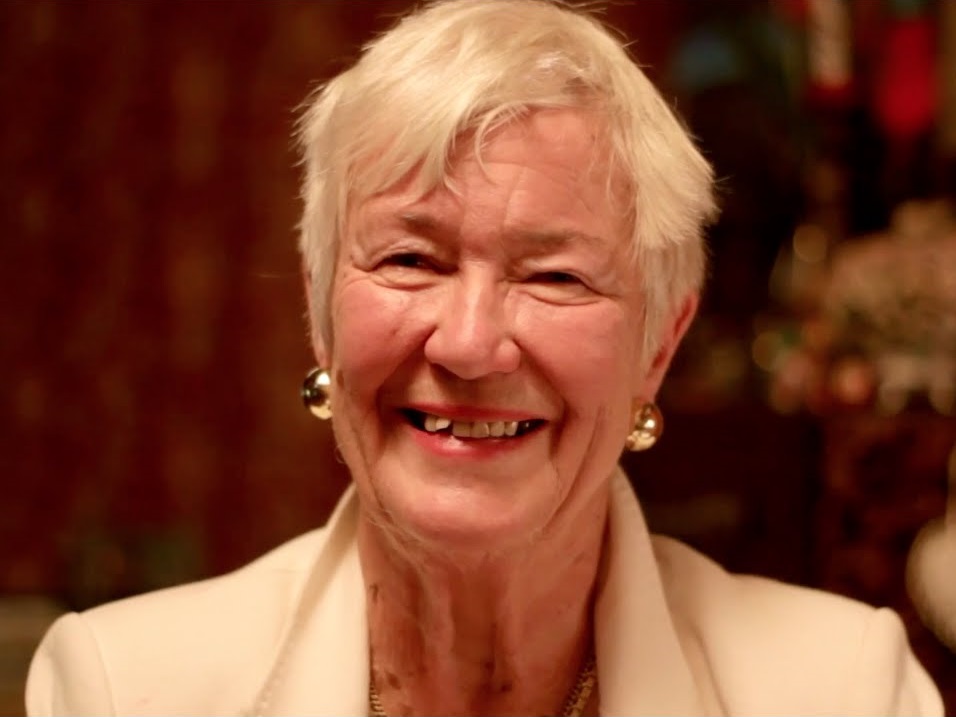 Dr Rauni Kilde M.D
So it appears that the entire planet is undergoing zersetzung which translates as biocorrosion, the destruction of life, as a tool of Cultural Genocide under the auspices of Covid-19 lockdown:
"Indigenous peoples have the collective and individual right not to be subjected to ethnocide and cultural genocide, including prevention of and redress for:

(a) Any action which has the aim or effect of depriving them of their integrity as distinct peoples, or of their cultural values or ethnic identities;

(b) Any action which has the aim or effect of dispossessing them of their lands, territories or resources;

(c) Any form of population transfer which has the aim or effect of violating or undermining any of their rights;

(d) Any form of assimilation or integration by other cultures or ways of life imposed on them by legislative, administrative or other measures;

(e) Any form of propaganda directed against them.

Article 7 of a 1994 draft of the United Nations Declaration on the Rights of Indigenous Peoples"5
Anyway, from our experiences of a decade of lockdown and social distancing, at the hands of oppressors under the influence of the same globalist banking dynasty and cartel who control art, and who backed and who previously made a fortune from countless atrocities including the Napoleonic War, the Bolsheviks, the Great War, not to mention the Nazis (as documented in several volumes by author Antony Sutton) and thus who appear to be indirectly responsible for well over a hundred million deaths in the 20th Century alone, and who are, according to my research, fully controlling art, are now also the shadowy force behind the so-called incoming 'Great Reset' so you have a good reason to be VERY WORRIED.
So here is an opportunity to learn something about what is REALLY happening to you under the Covid hysteria and why FROM OUR EXPERIENCE…
This destruction of civilisation is being carried out under the guise of preventing the spread of a disease, Covid-19, which according to the Center for Disease Control's (CDC) recently updated estimated infection survival rates by age group are:
"0-19: 99.997%
20-49: 99.98%
50-69: 99.5%
70+: 94.6%"6
Ron DeSantis @GovRonDeSantis September 23, 2020
For this illness, with an infinitesimally small death rate, is, we are tirelessly reminded by the hysterical Operation Mockingbird (CIA/ CFR /Rothschild) controlled media:
…is the reason why cities which survived and functioned throughout millennia of bubonic plague, typhoid, smallpox, cholera, AIDS, Spanish flu, not to mention countless wars including the onslaught of Nazi Panzer Divisions and the bombing of the Luftwaffe are now ghost towns, never to return to full functionality, which we're told, is the 'new normal', in preparation for what is being heralded as 'The Great Reset' (aka the New World Order) by 2030, by which time things will be rather different, for to quote the World Economic Forum's stated vision:
"Welcome to 2030. I own nothing, have no privacy, […] I don't own anything. I don't own a car. I don't own a house. I don't own any appliances or any clothes."7
…what needs to be remembered is that the last time millions of people:
"Own[ed] nothing, ha[d] no privacy, […] don't own anything…don't own a car…don't own a house….don't own any appliances or any clothes."8
…it was another globalisation experiment:
…carried out by fanatical Eugenicists and depopulation advocates such as those in now control, and it was called the holocaust. But hey, the World Economic Forum tells us that despite being in a situation in which:
"I own nothing, have no privacy, […] I don't own anything. I don't own a car. I don't own a house. I don't own any appliances or any clothes."9
…they tell us:
"you will be happy"10
…well these lot look happy don't they?
Well the so-called 'elites' like their little jokes, as the world will soon discover one way or another.
In the opinion of many, this disproportionate, illogical, panic-driven lockdown and hysterical mask-wearing, is whipped into a froth of panic by corrupt media and imposed by a 'ruler-class' to whom it doesn't apply and who continually and publicly flout the laws.
Whether or not you agree, and however you look at it, it cannot be denied that radical change is being imposed on humankind.
This is being invoked in the name of saving humankind, but it is in actuality destroying existence as we know it, demolishing civilisation, wrecking lives, relationships, health, minds, businesses, communities, and consequently transferring wealth to the super-rich.
Never before has such an attack on civilisation been undertaken as that which we are undergoing, in a supposed organic pandemic emanating from Communist China.
There is no question that a fatal disease is at the heart of this phenomenon.
However, that is about the only thing regarding the phenomenon that can be reliably ascertained.
Everything else is of dubious factuality, from the origin of the virus, to the death rates, to the ways it can be treated, everything.
The media have shown just how disproportionate, biased, illogical, corrupt, dishonest, and hysterical they can be, with powerful unison.
The forces controlling the propaganda have decided that this disease is to be treated with an iron hand, and that the standards of human behaviour built over millennia can be disregarded.
Never before has the voice of the medical grassroots been censored so rigorously by those with no medical training.
Chinese Coronavirus Whistleblower Dr. Li-Meng Yan just published her second Coronavirus scientific report. Available From:
https://twitter.com/LiMengYAN119 (Account currently suspended)
The role in Covid's global spread by the concentration-camp organ-farming, expansionist-totalitarian Chinese Communist Party (CCP):
…is dutifully muddied and covered-up by the World Health Organisation (WHO), and apologist media and (as we see above) tech, when surely it should be examined.
George Soros, who admittedly worked with the Nazis in sending Jews to concentration camps, has said regarding China's place in the world:
"I think this would be the time, because you really need to bring China into the creation of a new world order — financial world order," said Soros. "They are kind of reluctant members of the IMF. They play along, but they don't make much of a contribution because it's not their institution. Their share is not commeasurate — their voting rights are not commeasurate — to their weight. So I think you need a New World Order that China has to be part of the process of creating it, and they have to buy in. They have to own it the same way as I said the United States owns… the Washington consensus… the current order, and I think this would be a more stable one where you would have a coordinated policies."11
Australia, for daring to ask for an independent inquiry, are suffering a trade blacklist, serving as a warning to other countries, that the totalitarian standards of Communist China must now, it seems, be adhered to globally.
America appears to have fared even worse, for daring to stand up to the export of their manufacturing base and the theft of intellectual property, American politicians, legislators, judges, and representatives are apparently only too happy to oblige China, even to the level of the unprecedented election irregularities currently overturning democracy in the US, using the excuse of insecure mail-in ballots to comply with 'social distancing', while race-riots and looting are tacitly given the OK, an atrocity occurring as bold as brass and under the eyes of the whole world, which is clearly, to many, an act of election-theft as brazen as a burglar carting off a haul of silver, to many the biggest coup d'état in history, is being ignored and censored by the mainstream media, social media, and Big Tech.
The WHO itself headed by a Director General who is a genocidal gangster Tedros Adhanom, who is not even a Medical Doctor, himself apparently responsible for atrocities and corruption in Ethiopia, and apparently completely controlled by China and, and consequently pumps disinformation which is full of curious inconsistencies, inaccuracies, and falsehoods to the tame globalist media apparatus, which go duly unquestioned by those whose job it is to hold power to account.
Simultaneously the mere existence of this globalist-totalitarian, socialist, invisible-government, ruling through an unelected 'Deep State' and imposing the disproportionate lockdown destroying the humanity it is claiming to save, defeating the very purpose of the exercise, much as one may use a sledgehammer to crack a nut:
The idea of a global 'Deep State' co-ordinating this globally is propagandised as 'conspiracy theory', despite countless admissions of the Invisible Government's existence.
Indeed Freud's nephew, the 'Founder of Public Relations', Edward Bernays:
…admitted of its existence and method, as he boasted of his prowess in herding the public like sheep, all the way back in 1928, when he wrote:
"The conscious and intelligent manipulation of the organized habits and opinions of the masses is an important element in democratic society. Those who manipulate this unseen mechanism of society constitute an invisible government which is the true ruling power . …We are governed, our minds are molded, our tastes formed, our ideas suggested, largely by men we have never heard of…we are dominated by the relatively small number of persons…who pull the wires which control the public mind."12
Edward Bernays, 'Propaganda'
…and as if to confirm our worst suspicions as to the aims of these dictators it is asserted by the United Nations that:
"The present vast overpopulation, now far beyond the world carrying capacity, cannot be answered by future reductions in the birth rate due to contraception, sterilization and abortion, but must be met in the present by the reduction of numbers presently existing. This must be done by whatever means necessary."13
Initiative for United Nations Eco-92 Earth Charter
…indeed it is boasted:
"Some even believe we are part of a secret cabal working against the best interests of the United States, characterizing my family and me as 'internationalists' and of conspiring with others around the world to build a more integrated global political and economic structure – one world, if you will. If that's the charge, I stand guilty, and I am proud of it."14
David Rockefeller, 'Memoirs of David Rockefeller' [Added Emphasis]
So bearing the above in mind, is this Draconian de facto Martial-Law of 'lockdown' really about preventing fatalities from a disease with a well over 99% survival rate?
Well a little research will tell you:
"[M]inimization of death, economic calamity, and disruption to normal life should be seen as an optimal outcome. The exact opposite, high death rates, economic disaster, and social disintegration in exchange for draconian lockdown measures, should be seen as a bad response. […] Not only have policies such as stay at home orders and closing the economy failed in preventing the spread of COVID-19 or minimizing deaths, but they have also devastated…in other ways. A good policy must be able to address and balance all aspects of society. This not only includes containing the virus but respecting people's freedom, maintaining social cohesion, and protecting the economy. Uninfected citizens are no better off when their livelihoods are destroyed.

Stanford medical professor John Ioannidis illustrates the problem associated with the ongoing lockdowns when he writes

"One can only hope that, much like in 1918, life will continue. Conversely, with lockdowns of months, if not years, life largely stops, short-term and long-term consequences are entirely unknown, and billions, not just millions, of lives may be eventually at stake."15

COVID-19 may affect millions of people but a lockdown affects everybody indiscriminately.

Draconian Lockdowns Are Not Necessary

When comparing global lockdown responses with COVID-19 cases and deaths the results show little correlation between any of these factors. Sweden, which stayed relatively open, fared better than countries like Italy and the United Kingdom which implemented harsh lockdowns. The same goes for Latvia which had a moderate response to COVID-19 yet maintained some of the lowest cases and deaths.[…]Countries like South Korea, Taiwan, and Japan are noted as success stories that not only minimized COVID deaths and infection but also stayed relatively open.[…] Meanwhile, countries that implemented draconian lockdown measures such as the United States, the United Kingdom, and Italy did far worse."16
Ethan Yang, 'Experience From Other Countries Show Lockdowns Don't Work' [Added Emphasis]
If the powers that be really cared so passionately about the well-being of people surely they would make sure that people are able to continue with their lives, but the way the lockdown is destroying the businesses and livelihoods of everyone except the super rich, one may assume that they actually WANT to concentrate ALL THE WEALTH OF THE PLANET in very few hands; well waddaya know, that exact point has been their avowed intent for a century, through the work of Rothschild insider, diamond magnate and secret society founder Cecil Rhodes:
"…remarkably, this secret society – which was to wield its power behind the throne – was not a secret at all. The New York Times even published an article discussing the founding of the group in the April 9, 1902, edition of the paper, shortly after Rhodes' death.[…]
[…]The article, headlined "Mr. Rhodes's Ideal of Anglo-Saxon Greatness" and carrying the remarkable sub-head "He Believed a Wealthy Secret Society Should Work to Secure the World's Peace and a British-American Federation," summarized this sensational plan by noting that Rhodes' "idea for the development of the English-speaking race was the foundation of 'a society copied, as to organization, from the Jesuits.'" Noting that his vision involved uniting "the United States Assembly and our House of Commons to achieve 'the peace of the world,'" the article quotes Rhodes as saying: "The only thing feasible to carry out this idea is a secret society gradually absorbing the wealth of the world."

This idea is laid down in black and white in a series of wills that Rhodes wrote throughout his life, wills that not only laid out his plan to create such a society and provided the funds to do so, but, even more remarkably, were collected in a volume published after his death by co-conspirator William T. Stead.

[…]

So in 1902 Cecil Rhodes dies. There's a book published that contains his last will and testament. The guy who wrote the book, William T. Stead, was in charge of a British publication called The Review of Reviews. He was part of Rhodes' Round Table group. He at one time was an executor for the will, and in that will it says that he laments the loss of America from the British Empire and that they should formulate a secret society with the specific aim of bringing America back into the Empire. Then he names all the countries that they need to include in this list to have world domination, to have an English-speaking union, to have British race as the enforced culture on all countries around the world.

The will contains the goal. The goal is amended over a series of years and supported and used to gain support. And then, by the time he dies in 1902, there's funding, there's a plan, there's an agenda, there's working groups, and it all launches and then takes hold. And then not too long later, you've got World War One and then from that you've got World War Two and then you've got a century of control and slavery that really could have been prevented."17
The Corbett Report, 'The WWI Conspiracy'
So how is the conspiracy playing out?
"With Trump's ascension to the presidency in 2016, the Rhodes Scholars that had permeated the U.S. Deep State over many years found themselves choking on humble pie as they were removed from the drivers' seat of world affairs for the first time in decades.

The paradigm of post-nation state unipolarism that had been carefully built up over the post-WWII period had somehow been successfully challenged by an outsider [Trump] as the republic was slowly returned to its patriotic traditions as a nation committed to non-interventionism, industrial progress and protectionism.[…]

In the last few days, it has become clear that … Oxford-trained Rhodes Scholars have re-emerged as leading voices in Biden's cabinet, and since a general understanding of this problem is so lacking today (leading many patriots to be duped into believing that the evil Chinese are at the heart of their woes), I think some preliminary words are needed as a matter of historical context.

Cecil Rhodes' Vision Revisited
Every year since its creation in 1902, over 30 talented young American scholars have been rewarded each year with the privilege of an all-expenses paid brainwashing in the halls of Oxford University on the dime of the riches left to posterity by the deceased race patriot diamond magnate Cecil Rhodes before being re-deployed back to their home nations.

[…]

These early Rhodians interfaced closely with London's Fabian Society throughout the 20th century and became the new disciplined elite that gradually infiltrated every branch of society. This new breed of imperial managers exerted its influence in much the same way earlier Jesuit operations had been formed and deployed across Europe beginning in the 16th century.

For anyone confused as to the purpose of this Rhodes Scholarship program, one need look no further than Rhodes' 1877 Confessions of Faith and 7 wills which called for domination of the "inferior races" to Anglo-Saxon superiority, and the ultimate recapturing of America and the creation of a new Church of the British Empire:

"Let us form the same kind of society, a Church for the extension of the British Empire. A society which should have its members …endurant, possessed of eloquence, disregardful of the petty details of life, and if found to be such, then elected and bound by oath to serve for the rest of his life in his Country. He should then be supported if without means by the Society and sent to that part of the Empire where it was felt he was needed.'…"

A Calamitous 20th Century
As generations passed, the continuity of purpose that transcended individual lives of players on the stage was maintained by certain organizations that grew out of the original Rhodes/Milner Round Table movements and which had branches in every part of the Anglo-Saxon part of the British Empire. By 1919 after the Round Table had taken control of Canadian and British governments during 1911 and 1916 coups, this group created the Royal Institute for International Affairs (aka: Chatham House). By 1921, an American branch was set up called the Council on Foreign Relations (CFR) staffed with Rhodes Scholars and Fabians which has maintained a continuity of intention to the present day. This organization spawned dozens of influential sub organizations which always interface with a form of "central command".

[…]

Despite the set back caused by a populist deplorable who wrestled the reins of power away from these self-professed experts in 2016, a Rhodie is a stubborn creature if nothing else, and as we have discovered in past months, both Talbott and Rice have been revealed to be two figures at the heart of the Russiagate plot designed to undo the results of 2016.

While still serving as Brookings Institute President in 2015-17, it was Talbott who interfaced with MI6's Sir Richard Dearlove and Christopher Steele in the months before the elections by cooking up and circulating the dodgy dossier and it was Rice who was revealed to be at the center of the "unmasking" entrapment operation conducted on a bewildered Michael Flynn in January 2017.

[…]

Blinken, Rhodes and Soros
While Biden's pick for Secretary of State Anthony Blinken is not himself a Rhodes Scholar, he is a life-long friend and classmate with Robert Malley (a Rhodes Scholar who had formerly acted as Special Assistant to Obama serving as "point man in the middle east" at the NSC). Earlier, Malley had been special assistant to Bill Clinton on Arab Israeli Affairs and was always deeply enmeshed with George Soros' operations from day one of his entry into politics.

Since 2016, Malley has acted as President and CEO of the International Crisis Group (ICG) founded by George Soros and Lord Malloch Brown in 1994 as a tool to promote global humanitarian wars under the guise of Responsibility to Protect (R2P). Joining Soros, Malloch-Brown and Malley at the ICG, we should not be surprised to find none other than… Jake Sullivan.

Additionally, Blinken's father Donald Blinken made a name for himself as Soros' point man in Hungary from 1994-1998 where he served as US Ambassador facilitating the growth of Soros' Open Society Foundation. He was later rewarded by the Hungarian speculator with a "Donald and Vera Blinken Open Society Archive" (OSA) at Budapest's Central European University. The Soros-funded university was created in the wake of the collapse of the Soviet Union and Blinken was instrumental in that operation.

President Viktor Orbán knew exactly what he was doing when he expelled this foreign anti-nation state brainwashing operation from Hungary's borders in 2018. At the time, Central European University President Count Michael Ignatieff screamed "This is unprecedented. A U.S. institution has been driven out of a country that is a NATO ally."

A Segue on Count Ignatieff
It is noteworthy that Ignatieff is himself the son of Rhodes Scholar globalist George Ignatieff and great grandson of Count Nikolai Pavlovich Ignatiev (founder of the Russian Okhrana secret police) whose family was rewarded handsomely for services rendered to London-centered oligarchy during the overthrow of the Czarist system in Russia (sort of a precursor to today's modern Color Revolutions). This story is partially told in Cheney Revives Parvus' Permanent War Madness by Jeff Steinberg (2005).

As a sidenote, Michael Ignatieff's great grandfather on his maternal side is none other than George Parkin, the first controller of the Rhodes Trust from 1902-1922 and the man whose Oxford lectures and books inspired Cecil Rhodes and Milner to devote their lives to the cause of Empire. Michael is also a global board member of Soros' Open Society Foundations headed by none other than Mark Malloch Brown (as of December 4, 2020).

As I laid out in my recent report, not only did these two upper level managers come to light as coordinators of the Dominion/Smartmatic vote fraud operation underway within the USA, but both have also pioneered the new age of regime change color revolutions beginning with Marcos' 1986 ouster during the Peoples' Power revolution in the Philippines, through the Balkans, Georgia, Ukraine, Kyrgyzstan, Belarus, Moldova, Bolivia, etc.

[…]

The only way to comprehend the color revolution playing out within the USA, or the anomalous emergence of Rhodes Scholars shaping the possible Biden presidency, is by recognizing this higher reality…."18
Matthew J.L. Ehret, 'Rhodes Scholars Surge in Biden's Potential Cabinet'
…and the ongoing coup against America and the world is occurring under the Rhodes plan, which is played out by the banking bloodlines he conspired with, including, most importantly for this article, their takeover of culture through apparent philanthropy:
"It was Mayer Amschel who laid the foundations of today's Rothschild power base, by sending his five sons off to different European financial hubs: Frankfurt, Vienna, Paris, Naples and London, where his third son, Nathan Mayer Rothschild, founded the eponymous bank in the City in 1811. Almost immediately, NM Rothschild became a major force in the City, bankrolling the Duke of Wellington during the Napoleonic Wars.

John D Rockefeller got going a little later. The son of a travelling salesman, he made a fortune in food supply, before turning to oil refining in Ohio. By 1868, he owned the biggest oil refinery in the world, in partnership with his brother.

Throughout Rockefeller history, the name has stamped itself deep into the popular psyche through its philanthropy. That first John D Rockefeller founded Chicago University and Rockefeller University, as well as the Rockefeller Foundation – backer of, inter alia, the London School of Hygiene and Tropical Medicine, and the New School in New York.

It was his son, John D Rockefeller Junior, who built New York's Rockefeller Centre. The Gershwins were quite right in their lyrics, Manhattan's gazillionaires did fight to get into the soaring art deco skyscraper, and it became one of the city's biggest pieces of prime real estate: 19 buildings across 22 acres, all in the very centre of New York, between 5th and 6th Avenues and 48th and 51st Streets.

The cliché of fabulous new wealth is "rags to rags in three generations", but each generation of the Rockefellers kept on building up the current account, while spreading the philanthropic interests. John D Rockefeller Junior gave the land for the Museum of Modern Art, stuffed the Met with medieval masonry and set up New York's best-kept secret, the Cloisters museum, a staggering complex of five French monasteries perched on a cliff above the Hudson River.

His five sons continued the dynastic pattern – and that dynastic importance was intensified with the use of Roman numerals: JD Junior's son was dubbed John D Rockefeller III. His brother Nelson was Gerald Ford's vice-president; another brother, Winthrop, was Republican Governor of Arkansas. And the youngest brother, David, is still with us, at 96, now the Rockefeller patriarch and still hurling dollar bills at charitable institutions. In 2005, he gave away £64 million to the Museum of Modern Art and Rockefeller University – each.

A philanthropic streak runs through the Rothschilds, too. Jacob Rothschild's home, Waddesdon, in Buckinghamshire – built in Rothschild Loire château style, rather than Rothschild Tudor – now belongs to the National Trust, but he continues to cram it with treasures appropriate to its Victorian builder, Baron Ferdinand de Rothschild. He also endowed the National Gallery generously during his time as chairman of its trustees, and did much to turn Somerset House from London's biggest car park into its finest neo-classical palace.

The new union between the two clans does more than weld two vast fortunes to each other, then. It allies a pair of dynasties that have – coincidentally, independently – followed the two rules that all mega-plutocrats must obey if they want to be remembered in a century's time. One: ensure your children feel a duty to preserve the family fortune. And, two, paradoxical as it may sound: give as much money as you can to universities, galleries and hospitals."19
Harry Mount, 'Rothschild and Rockefeller: their family fortunes'
The point?
"absorb the wealth of the world [and] to take the government of the whole world"20
Cecil Rhodes, 'The Society of the Elect'
…which is EXACTLY what is happening at the moment under the auspices of saving the world.
This situation has bred a global media-led hysteria in which the establishment media's approved spokesmen are the totalitarian CCP aligned WHO and Eugenicists such as population control advocate, college dropout, alleged code thief, and subsequent Microsoft billionaire, the Rockefeller (and thus Rothschild) backed Bill Gates:
"In recent years, there has been a growing debate about what role foundations should play in global health governance generally, and particularly vis-à-vis the World Health Organization (WHO). Much of this discussion revolves around today's gargantuan philanthropy, the Bill and Melinda Gates Foundation, and its sway over the agenda and modus operandi of global health. Yet such pre-occupations are not new. The Rockefeller Foundation (RF), the unparalleled 20th century health philanthropy heavyweight, both profoundly shaped WHO and maintained long and complex relations with it, even as both institutions changed over time."21
Backstage: the relationship between the Rockefeller Foundation and the World Health Organization, Part I: 1940s-1960s
The banking dynasties run the WHO. This is a widely acknowledged fact, ergo:
"The Rockefeller Foundation is the organization responsible for creating a "blueprint" or prototype for the WHO (World Health Organization) it was called the: International Health Division. Anyone who has studied world history in earnest and is worth their salt knows that the Rockefeller family is the controlling arm of the Rothschild family in the USA. David Rockefeller's book "Memoirs" admits secretly conspiring for a New World Order.

The Rockefeller Foundation in conjunction with the Global Business Network created this simulation in 2010. The "Lock Step" scenario describes a coronavirus-like pandemic that becomes the trigger for the imposition of police-state controls on movement, economy, and other areas of society that results in "a world of tighter top-down government control and more authoritarian leadership."

Here is a quote from Page 19 (This was published by The Rockefeller Foundation in May, 2010) [Download Full PDF]

"At first, the notion of a more controlled world gained wide acceptance and approval. Citizens willingly gave up some of their sovereignty—and their privacy—to more paternalistic states in exchange for greater safety and stability. Citizens were more tolerant, and even eager, for top-down direction and oversight, and national leaders had more latitude to impose order in the ways they saw fit. In developed countries, this heightened oversight took many forms: biometric IDs for all citizens, for example, and tighter regulation of key industries whose stability was deemed vital to national interests."

The Rockefeller Foundation created the WHO & funds U.S. Public Health.
So, is this merely a caring act to protect humanity? Well no, because Gates himself follows the same junk Nazi population control pseudoscience as the very worst Nazis, such as both Mengele at Auschwitz and Eichmann – as seemingly do all the globalists, as is reflected symbolically in culture they choose as their 'vanity blog'.
While millions including doctors and other experts are skeptical about the disproportionate lockdown, treatment options, and the collateral; damage being done which millions of people worldwide are experiencing since 2020 and which I and my partner have been experiencing increasingly for the last ten years.
The knowledge of this may give the reader a new insight into the current measures destroying the result of centuries of the effort of western civilisation, as de facto martial law has imposed globally a curfew on millions, as the media inflate the disease into a terror weapon, enabling governors to implement disproportionate lockdown orders, and the Mainstream Media in their 'Project Fear' are broadcasting of this relatively minor disease, as the equivalent of a modern bubonic plague, or Spanish flu, to enable the 'Great Reset', and appear as a result very real terrorists implementing totalitarianism.
"Totalitarianism is a form of government that prohibits opposing political parties and ideologies, while controlling all aspects of the public and private lives of the people. Under a totalitarian regime, all citizens are subject to the absolute authority of the state. Here we will examine the political and philosophical perspectives of totalitarianism, as well as its level of prevalence in the modern world.

Key Takeaways: Totalitarianism
• Totalitarianism is a system of government under which the people are allowed virtually no authority, with the state holding absolute control.
• Totalitarianism is considered an extreme form of authoritarianism, in which government controls almost all aspects of the public and private lives of the people.
• Most totalitarian regimes are ruled by autocrats or dictators.
• Totalitarian regimes typically violate basic human rights and deny common freedoms in maintaining total control over their citizens.

Totalitarianism Definition
Often regarded as the most extreme form of authoritarianism, totalitarianism is generally identified by dictatorial centralized rule dedicated to controlling all public and private aspects of individual life, to the benefit of the state, through coercion, intimidation, and repression. Totalitarian states are typically ruled by autocrats or dictators who demand unquestioned loyalty and control public opinion through propaganda distributed via government-controlled media."23
Robert Longley, 'What Is Totalitarianism? Definition and Examples'

The above is being imposed with the lame justification of the reducing the number of infections of SARS Covid-19, a disease which has, as we have seen, an above 99% survival rate, but the governing powers have succeeded in destroying the accumulated achievements of countless millions globally.
It must be noted that the same banking dynasties apparently controlling global health and thus it would seem, lockdown policy through numerous governments and organisations also appear to control art, and thus, one would assume, also control the ferocious blacklisting and consequent lockdown of artists such as myself.
"…let us go back to 1929 and the founding of the Museum of Modern Art by Abby Rockefeller. Any person awake should have been suspicious of that entire enterprise. First of all, the Rockefellers were and are a banking family: their job from day one has been moving money around—laundering it, inflating it, and mostly moving it out of the other fellas' pockets and into their own. Yes, the Rockefeller fortune originally came from Standard oil, but they were into banking early on and joined forces with Chase Bank in 1930—within months of the founding of MOMA. ..that,…is a huge clue here[…] many people then and now didn't understand why these rich old families that had previously been strictly old school should suddenly become so interested in Modern art. Just a couple of decades earlier, these plutocratic families had mocked and slandered the new art, calling it decadent and embarrassing. What had changed their minds? Had their tastes in art changed completely? Had they been convinced by the new art critics? That is the line we are sold, but it isn't what happened. What happened is that one of these financial men—we don't know who saw it first—surmised that this new art could be bought low and sold high. Traditional art was already high (for the time), so it would be more difficult to inflate further. But with their connections to government and Intelligence[…] they saw they could create a new market for the new art from whole cloth. The market for Modernism was new and low, and it was not being controlled by anyone else (no other mob), so it was seen as a perfect opportunity."24
Miles W. Mathis, 'I Would Like to File a Suspicious Transactions Report on the entire 20th century'
…an opportunity to control the narrative, by determining which artists were suitable for the public consumption, given their plans for globalisation, not to mention the plan to launder money.
So if the lockdown IS part of the imposition of a NEW WORLD ORDER, if the destruction of the lives and livelihoods of billions under the pretense of 'lockdown' is deliberate as the evidence indicates, just as the annihilation of my career as an artist is deliberate, and if both emanate as the evidence indicates, from the sphere of influence over public policy of the globalist banking bloodlines, then why do it to artists first?
_______________________________
Part Two can be read here – bookmark this blog – follow me @JonHammer on Twitter (shadowbanned) or or on the Hive blockchain @elate also on Substack at https://jonhammer.substack.com/
________________________________